E-ISSN : 2684-6950
International Journal for Educational and Vocational Studies (IJEVS) is a peer-reviewed open-access international scientific journal who aims to provide an international flatform for researchers, professionals, lecturer, and educational practitioners on all topics related to educational and vocational issues, insight by leading scholars, theorists, and practitioners worldwide.
IJEVS aims to for the sharing, dissemination and discussion of research results, indivudal experience and review across a wide range of educational and vocational issues, as like all areas of the teaching development, instruction, educational projects and innovations, learning methodologies, new technologies in education, innovative pedagogies and inspirational insights into education, technology, and vocational. IJEVS will be publishing issues Monthly by the Universitas Malikussaleh, Aceh Utara, Indonesia.
IJEVS recieved manuscripts written in good English, correct grammar, and before submission to journals must be included in the article format provided in the right sidebar of the journal webpage.
Each paper published in IJEVS is assigned a DOI number, which appears beneath the author's affiliation in the published paper and inclusion in international indexer.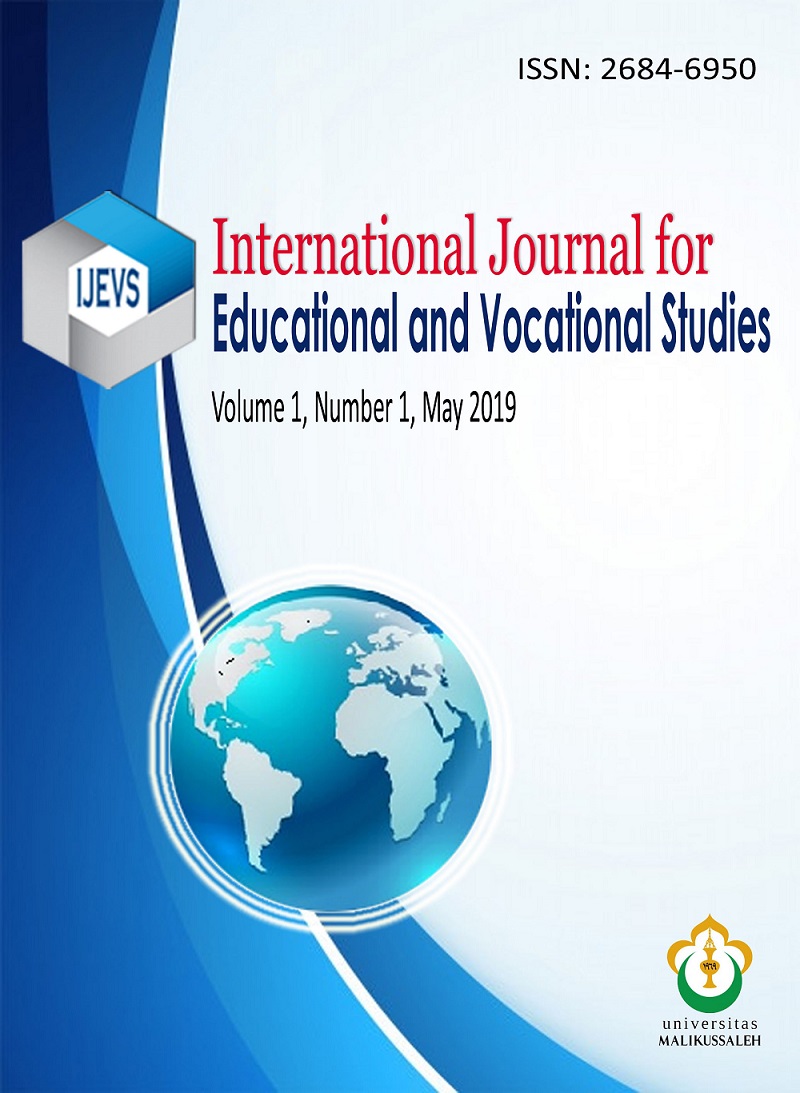 Announcements
Update: Author Guidelines

Dear Authors

Every Authors submitting a manuscripts to this journal must follow the Author Guidelines.

Submission of manuscripts must be made through the ONLINE SUBMISSION menu. New authors must create an OJS account by registering on the REGISTER menu. See the ONLINE SUBMISSION menu. If you have problems in submitting the manuscript, please send your manuscript to email: ijevs@unimal.ac.id

Submissions are made after preparing the manuscript according to the minimum standards below. Please read and follow the manuscript minimum standards of the below.

Manuscript Minimum Standards
Before submitting the manuscript, please read and meet the minimum standard requirements of the manuscript below:

Manuscripts submitted to this journal have not been previously published, or are not being considered in another journal. (Don't double submit).
Manuscripts must use English, which is grammatically correct and in correct spelling.
Manuscripts must contain novelty, show gap analysis and have a minimum number of references is 40 with 80% referring to the journal.
Manuscripts must be prepared in template format and use reference management software, such as Zotero, Mendeley, or EndNote for reference management and formatting, and choose APA style.
The length of submitted paper is at least 6 pages and no more than 10 pages. Editors will be evaluated if the papers are needing more pages than 10 pages.
Make sure that the manuscript is prepared using the manuscript template format. DOWNLOAD template format.
The submission file is in OpenOffice, Microsoft Word, RTF, or WordPerfect document file format. (Don't submit PDF files).

Regards

IJEVS Editorial Team

Posted: 2021-01-21
More...

Call for Papers 2021

Dear Researchers/Professors/Lecturers/Scholars

 

 

We would like to inform the authors that previously, 2019 - 2020 IJEVS published monthly issues. However, in 2021 - so on will publish quarterly (March, June, September and December).

 

We would like to invite you to submit the best manuscripts to this journal. Information about author guidelines and submissions can be found in the

Author Guidelines

menu.

 

Deadlines for papers submission:




Vol. 3 No. 1 March 2021, submission deadline: 30 January 2021





Vol. 3 No. 2 June 2021, submission deadline: 25 April 2021




Vol. 3 No. 3 September 2021

, submission deadline:

25 July 2021





Vol. 3 No. 4 December 2021

, submission deadline:

25  September 2021


 

 


If any problems, please send your manuscript to email: ijevs@unimal.ac.id

 

 

Best regards.

 

IJEVS Editorial Team


Posted: 2021-01-04
More...
Vol 2, No 12 (2020): December 2020
Articles in Press (articles that have been accepted for publication but which have not been formally published and  not yet have the complete volume, issue, page information, and DOI) that include errors, or are discovered to be accidental duplicates of other published article(s), or are determined to violate our journal publishing ethics guidelines in the view of the editors, maybe "Withdrawn" from IJEVS Journal.
*************************************************************
Table of Contents
Articles