About Journal

Management Research and Behavior Journal (MRBJ) is an international scholarly journal devoted in publishing papers using multidisciplinary approaches in management with a strong emphasis on business, human resources, finance and behaviour. Management Research and Behaviour Journal (MRBJ) aimed to provide research articles in order to have a significant implication on the world of management studies and to bridge the gap between theory and practice in management research. It is a two annual journal published and all articles submitted are in English. Our uniqueness focus on the impact of ever-changing world towards the society based on our niche area of research. Management Research and Behavior Journal (MRBJ) follows a double-blind peer-review process, whereby authors do not know reviewers and vice versa. The journal intends to serve as an outlet with strong theoretical and empirical research and the papers submitted to MRBJ should not have been published or be under consideration for publication elsewhere.
Management Research and Behavior Journal (MRBJ) published periodically two times annually (April and October) by Department of Management, Universitas Malikussaleh, Indonesia.
Scope

The journal covers a variety of management and behaviour topics in the following areas such as: Business, Marketing Management, Finance Management, Operation Management, Strategic Management, Entrepreneurship, Innovation and Competitiveness, Sustainable Development, Human Resource Management, Leadership, Organizational Behavior, Change Management, Risk Management, e-Business, e-commerce, International Business, Knowledge Management, Management Finance, Management Control System, Management Information System, and Supply Chain Management.
Information for Authors
The manuscript should be original, unpublished, and not in consideration for publication elsewhere at the time of submission to the MRBJ. The manuscript must be written in English and follow the Author Guidelines. Please make sure that your manuscript is prepared using the journal template. Download journal template.

Online Submission
1. Before submit, Authors must register a OJS account. GO TO REGISTRATION
2. After register a OJS account. GO TO LOGIN
Registration and login are required to submit items online and to check the status of current submissions.

If any specific questions, please do not hesitate to contact us at: mrbj@unimal.ac.id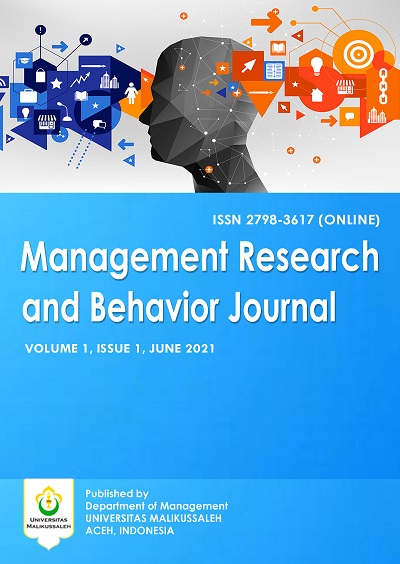 Announcements
Call for Papers 2021 for First Edition

Dear Researchers/Professors/Lecturers/Scholars

 

We would like to invite you to submit a research papers to be published in the

Management Research and Behaviour Journal (MRBJ)

. MRBJ accepts submissions of original research papers or any other original contributions in the form of reviews and reports written in english with must follow author guidelines in this journal. Furthermore, the manuscripts submitted to the journal will be reviewed early by the chief editor, and if they meet the minimum standards of the journal, they will proceed to the double blind review stage.

Otherwise if they do not meet the minimum standards, they will be returned or rejected.




 

Deadlines for papers submission:




Vol. 1 No. 1 April 2021, submission deadline: 5 March 2021





Vol. 1 No. 2 October 2021, submission deadline: 25 July 2021





 

We believe in quality research work and for this our experienced team of editorial board will do blind peer-review of every research paper to maintain the quality standard of every volume.

Looking forward to correspond with you.

 

If any question, please contact us at mrbj@unimal.ac.id

 

MRBJ Editorial Team




Posted: 2021-02-11
More...