PENGARUH FAKTOR-FAKTOR RIIL EKONOMI TERHADAP PDRB PERTANIAN INDONESIA
Abstract
This study analyzed the effects of government expenditure, investment, and  labor  on  the Gross  Regional  Domestic  Product  (GRDP)  of  the agricultural sector in all provinces in Indonesia using panel data for four years (2015 - 2018). The model used was a Panel Data Regression. The results showed that Government Expenditure, Investment positively influenced,   and   Labor   negatively   influenced   the   GRDP   of   the Agricultural Sector, and these three variables significantly influenced the GRDP of the Agricultural Sector in Indonesia.
Keywords
Government Expenditure, Investment, Labor and GRDP in the Agricultural Sector
References
Agustina, I. M., & Kartika, I. N. (2017). Pengaruh Tenaga Kerja , Modal Dan Bahan Baku Terhadap Produksi Industri Kerajinan Patung Kayu Di Kecamatan Tegallalang. E-Jurnal Ep Unud. Universitas Udayana, 6(7), 29.
Ali, M., & Maisyuri. (2017). Pengaruh Desentralisasi Fiskal Dan Pendapatan Aali Daerah Terhadap Kinerja Keuangan Daerah Kabupaten Aceh Utara. Jurnal Akuntansi Dan Pembangunan, 3(1), 41–56.
Antong, Duriani, & Abit, R. (2016). Pengaruh
Pengelolaan Pajak Bumi Dan Bangunan Perdesaan Dan Perkotaan Tahun 2014 Terhada Perencanaan Anggaran Penerimaan Pada Dppkad Kota Palopo. Jurnal Akuntansi, 2(1),
–15.
Bps. (2020). Badan Pusat Statistik Indonesia 2020.
Firmansyah, A. K., Wibisono, S., & Suswandi, P. E. (2012). Pengaruh Pendapatan Asli Daerah ( Pad ) Dan Dana Perimbangan Terhadap Jumlah Penduduk Miskin Di Kabupaten Banyuwangi Tahun 2000-2012 ( The Influence Of District Own Source Revenue And Balance Fund To The Amount Of Poverty At Banyuwangi District On
-20.
Ghozali, I. (2006). Aplikasi Analisis Multivarite Dengan Spss, Cetakan Keempat. In Badan Penerbit Universitas Diponegoro: Semarang.
Gujarati, D. (2009). Dasar-Dasar Ekonomitrika. In
Salemba Empat: Jakarta.
Kholili, M., Widjajanti, & Andjar Wibisono. (2015).
Analisis Pengaruh Jumlah Tenaga Kerja Dan Modal Terhadap Hasil Produksi Industri Kecil Sangkar Burung Di Kecamatan Sukowono Kabupaten Jember. Artikel Ilmiah Mahasiswa, Fakultas Ekonomi Unej, 1–8.
Kusuma, M. K. A. A., & Ni, G. P. W. (2013).
Analisis Pengaruh Penerimaan Pajak Daerah Dan Retribusi Daerah Terhadap Peningkatan Pad Sekabupaten/Kota Di Provinsi Bali. E-Jurnal Akuntansi, 5(3), 544–560.
Maiti, & Bidinger. (2001b). Pengaruh Investasi, Tenaga Kerja, Dan Pengeluaran Pemerintah Terhadap Pertumbuhan Ekonomi Di Propinsisulawesi Selatan. Journal Of Chemical Information And Modeling, 53(9), 1689–1699
Miragustia Mayza, R. M. M. N. (2015). Analisis
Faktor-Faktor Yang Mempengaruhi Pendapatan Asli Daerah (Pad) Provinsi Aceh. Jurnal Ilmu Eko nomi, 3(1), 9–16
Octavianingrum, D. (2015). Analisis Pengaruh
Investasi, Tenaga Kerja , Dan Tingkat
Pendidikan Terhadap Pertumbuhan Ekonomi. Skripsi Fakultas Ekonomi Universitas Negeri Yogyakarta, 1–80.
Olivia, A. . V. (2018). Pengaruh Sektor Pertanian Dan
Sektor Perdagangan Terhadap Produk Domestik Regional Bruto (Pdrb) Kabupaten Pringsewu Periode 2008-2016 Dalam Perspektif Ekonomi Islam..
DOI:
https://doi.org/10.29103/jepu.v4i2.5740
Article Metrics
Abstract Views : 90 times
PDF Downloaded : 29 times
Refbacks
There are currently no refbacks.
Copyright (c) 2021 Tarmizi Abbas, Nurhayati M

This work is licensed under a
Creative Commons Attribution-ShareAlike 4.0 International License
.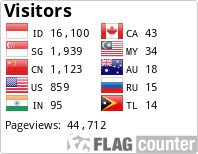 This work is licensed under a Creative Commons Attribution-ShareAlike 4.0 International License.